If you know anything about authentic Italian cuisine, then you might want to skip this post. True pasta carbonara does not really look anything like this dish, but that doesn't mean it doesn't taste good. The main components of traditional carbonara are cured meat (pancetta, usually, but I use bacon), a sauce made with egg and parmesan, and lots of black pepper. It ends up as pasta with a creamy sauce and bacon, which is hard not to like.
My version has the pasta, the creamy sauce, and the bacon, so I feel OK calling it carbonara. Whatever you want to call it, this is a family favorite and something I make at least once a month!
Easy Pasta Carbonara 
I'm going to share the first few steps as things that you can do simultaneously, but before you even start cooking, realize that you want to basically time it so that the pasta is done right before you're ready to serve it. Everything else can sit until the pasta is ready, and pasta doesn't take that long, so just keep that in mind.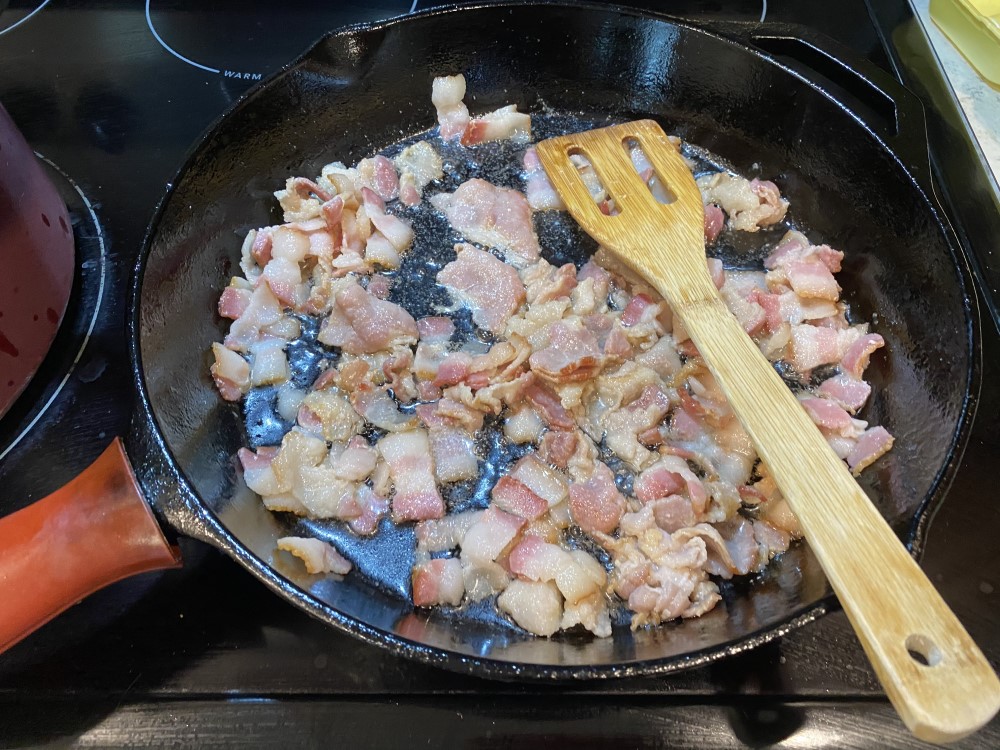 Chop the raw bacon into small pieces and brown in a skillet. (Alternatively, you can cook the bacon in whole pieces and chop it after it's cooked.) Remove from skillet and drain on paper towels when done.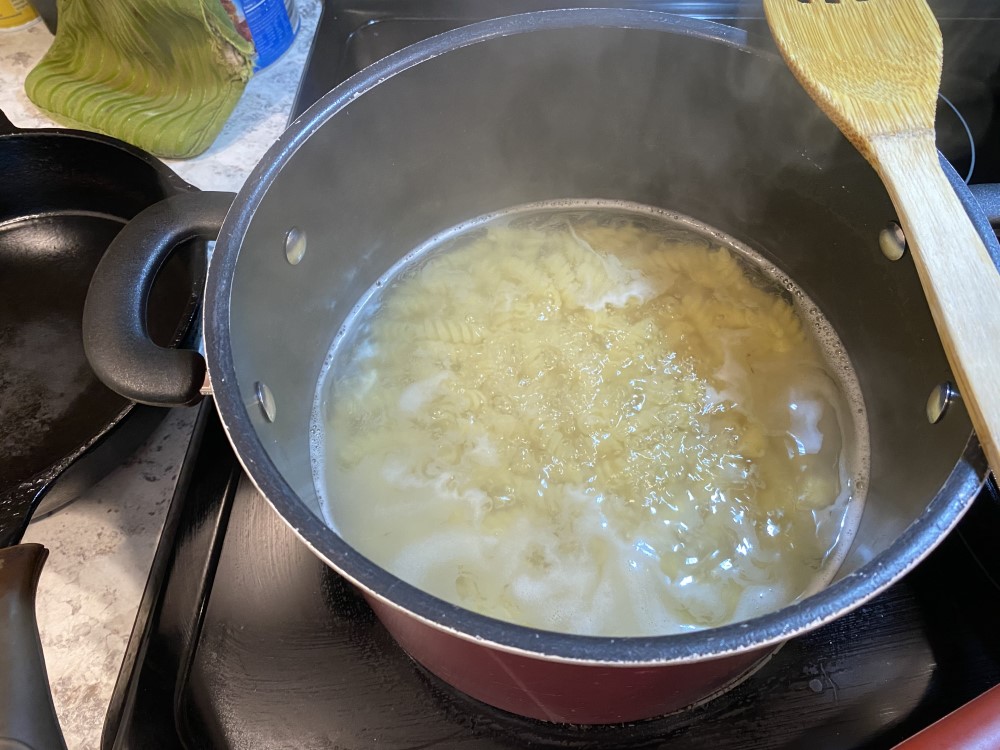 Begin cooking the pasta.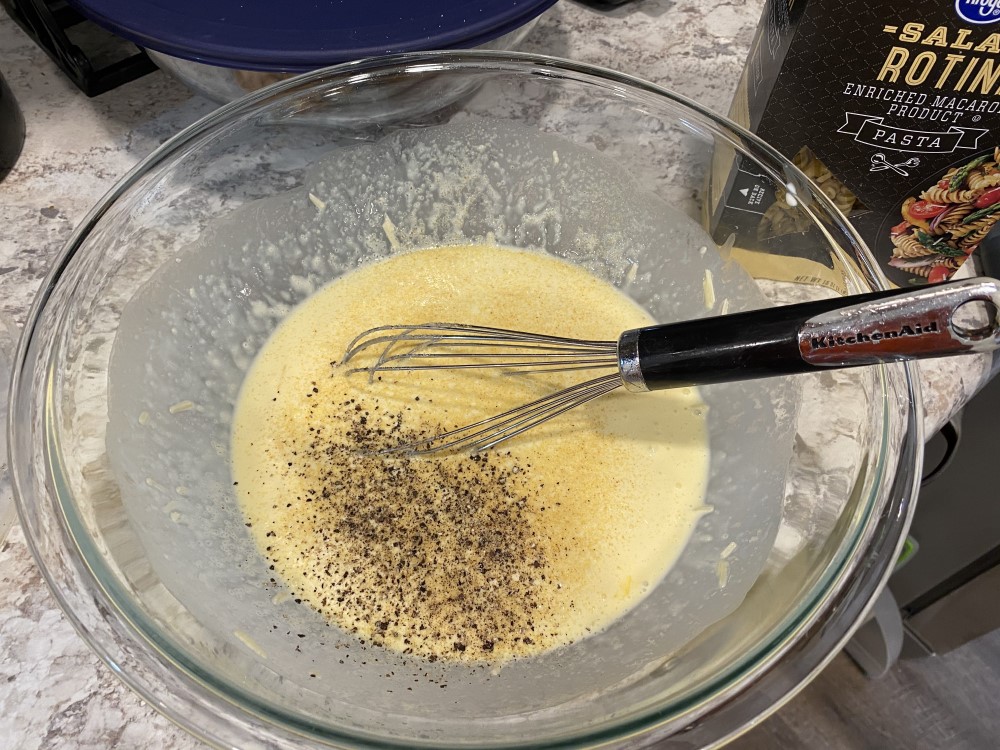 While the pasta is cooking, whisk together the eggs, cream, and parmesan cheese in a large bowl.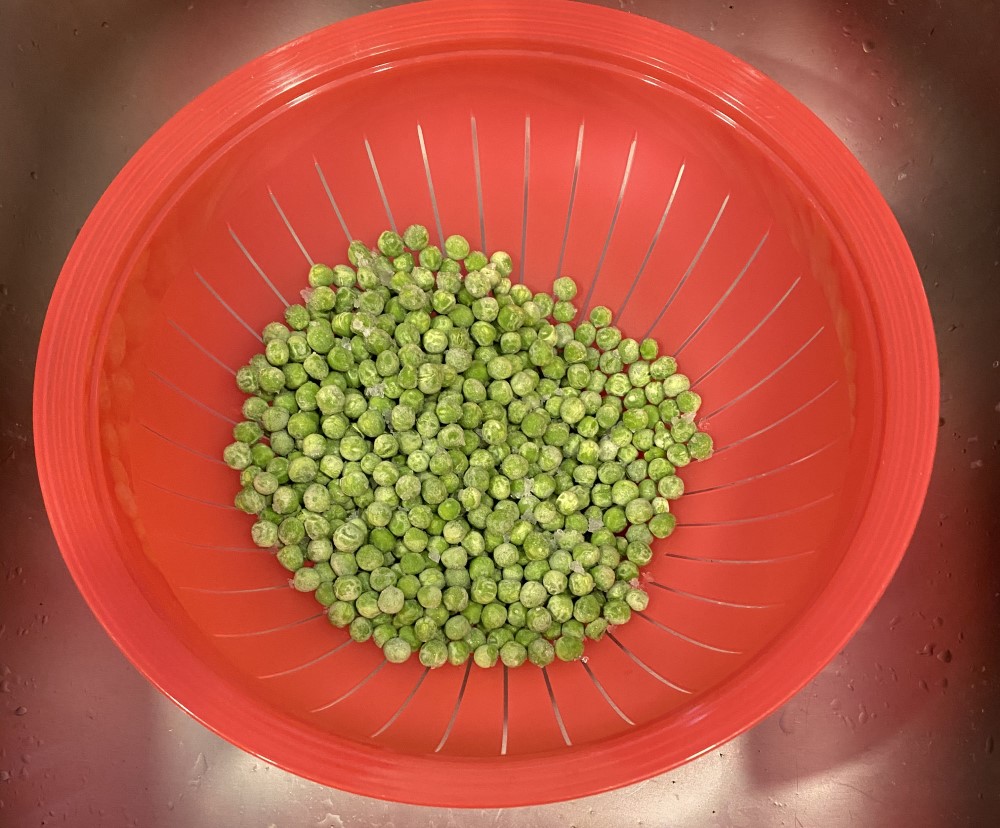 Place the frozen peas in a colander over the sink.
When the pasta is done cooking, drain it on top of the peas in the colander and immediately put the peas and pasta into a serving bowl. 
Then slowly pour in the egg/cream/cheese mixture while stirring constantly. As long as your pasta is still hot when you do this, it will cook the egg enough for it to be safe to eat. Just make sure you stir it and keep the pot off the heat, otherwise you'll have scrambled egg in your pasta, which isn't super appetizing. (Note: This picture doesn't show the peas, as the night I took these pictures, one child requested mixing in the peas separately, so I just mixed together the bacon and pasta and sauce and let people choose to eat their peas either mixed in or on the side.)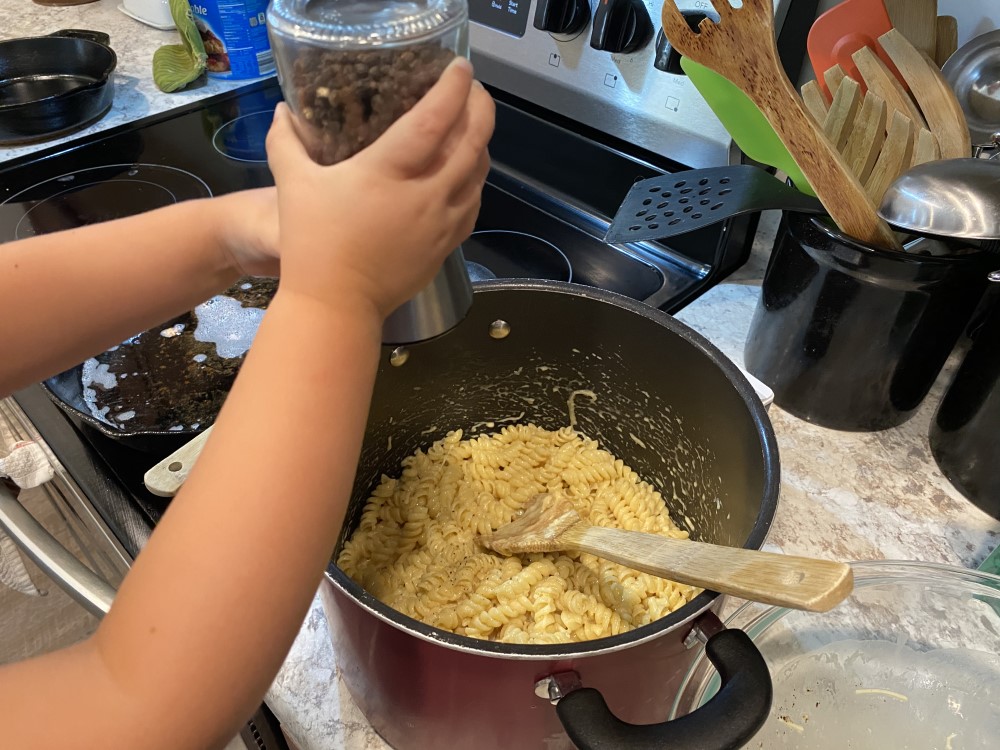 Stir in the bacon pieces and add onion powder, garlic powder, salt, and pepper to taste. Serve immediately.
This dish really is simple and easy to make, but it's a family favorite in our house.
Print Easy Pasta Carbonara Recipe
Ingredients
1 box pasta  ½ pound bacon 4 eggs 1 cup heavy cream 1 cup parmesan cheese  Onion powder Garlic powder Salt and pepper  1 cup frozen peas
Directions
Chop the raw bacon into small pieces and brown in a skillet. Remove from skillet and drain on paper towels when done.  Begin cooking the pasta. While the pasta is cooking, whisk together the eggs, cream, and parmesan cheese in a large bowl. Place the frozen peas in a colander over the sink. When the pasta is done cooking, drain it on top of the peas in the colander and immediately put the peas and pasta into a serving bowl. Then slowly pour in the egg/cream/cheese mixture while stirring constantly. Stir in the bacon pieces and add onion powder, garlic powder, salt, and pepper to taste. Serve immediately. 3.1 Created by SouthernSavers.com